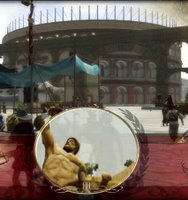 WarCry? Network
: "Sony Online Entertainment's Platform Publishing?, a cross-platform publishing, distribution and marketing label, today announced an agreement with San Francisco, CA-based online games developer Perpetual Entertainment to co-publish its online action role-playing game, Gods & Heroes: Rome Rising.?
Gods & Heroes: Rome Rising features an innovative style of combat not seen in other online multiplayer games, courtesy of Perpetual Entertainment Lead Designer Stieg Hedlund, lead designer of the best-selling RPG Diablo II. Reminiscent of an Action/RPG, combat moves can be linked together and even include 'finishing' moves to provide a more dynamic, dramatic and visceral feel to battles. Squad-based combat is another unique aspect of Gods & Heroes: Rome Rising; players will earn and command Non-Player Characters (NPCs) in a variety of strategic groupings to form individual squads, create unique formations and implement combat tactics for these squads to execute on command, maximizing their power in combat.
Gods & Heroes: Rome Rising brings the bold and dramatic world of ancient Rome online. As Rome grows into its role as a Republic, enemies from Carthage, Gaul and other nations seek their share of the treasures of this new empire. Furthermore, monstrous creatures of myth, such as Gorgons, Minotaurs and Furies roam the land and threaten the safety of Rome. As heroes of the republic, players will embark on epic quests to defend the empire, protect its interests and people, and serve one of the ancient Gods of Roman myth. This alliance with the gods will provide the player with incredible "god powers" that can be wielded in battle against monsters as well as against other players in Player vs. Player (PvP) combat.
Gods & Heroes: Rome Rising? is a subscription-based massively multiplayer game developed and operated by Perpetual using its proprietary Perpetual Entertainment Platform (PEP) technologies. Under the co-publishing partnership, Perpetual will host and operate the game, while SOE's Platform Publishing will be responsible for retail marketing and distribution of the game in North America."