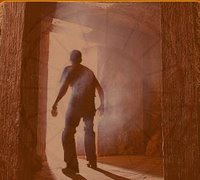 It looks like I'm going to have to look for a conference next year in Boston! A new entertainment venue featuring a replica Egyptian Tomb environment has opened and it sounds really immersive! A physically interactive environment that offers real atmospherics, physical props and a teamwork challenge that should be exciting and educational!
"5W!TS premier show, TOMB, now at 5W!TS-Boston, is a 40-minute interactive adventure experience set in an incredibly realistic pharaoh?s tomb in an archaeological dig site in ancient Egypt.
Explore TOMB with your team, working together to overcome each of pharaoh?s challenges as you make your way through the intricate rooms toward the burial chamber.
Your journey is loaded with stunning special effects, from lasers and fog, to water and air, to dazzling computer-controlled lighting and booming stereo sound. It?s like being in the movies!
Success is by no means guaranteed. If your team fails you?ll learn how pharaoh deals with inferior performance. Be on the lookout, because there?s never a shortage of surprises in the TOMB!"
What fun!