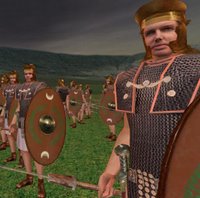 Game News
: "RedBedlam Ltd declares the pre-order phase open for its Roman Empire based MMORPG (Massively Multiplayer Online Role Playing Game) Roma Victor. The first 1, 500 account keys are available from the Roma Victor website. Pre-ordering will also ensure immediate access to the ongoing Commercial Test phase so participants will have the opportunity to join the ranks of current testers helping to balance the game.
Additionally, pre-order participants and the game's veteran testers will enjoy exclusive access to the post-launch game world on the Ides of March 2006 - a full 2-weeks in advance of the full launch."
"Roma Victor is based in the Roman Empire, circa 180AD. Most of Europe is in the clutches of the Roman Empire. Commodus has succeeded his father Marcus Aurelius, the philosopher Emperor and is exerting tyrannical influence. The Praetorians keep a strict and oppressive rule over the entire Empire, which is defended and (outside Rome) largely policed by the Legions. Many Barbarian outposts and enclaves exist peacefully outside Imperial rule particularly in Britannia, Gaul and Germania. These people however always live in fear of the Legions, which threaten their culture and their very existence. If they stand united, they may just hold them off.
Roma Victor® is the pilot project of RedBedlam Ltd., a Brighton-based development company set up with the express purpose of building compelling and exciting virtual worlds. Since it's inception back in May 2001, RedBedlam's ethos has been one of community involvement, with the belief that the best products are those that are built with the player in mind. To this end, each and every aspect of this game's development has taken place with direct participation from the online gaming community."